This quest is started automatically when you first log in with your character.
General Information
Edit
Objective: Talk to [Robert]
Reward: Starry Sky Treasure Box
NPC for Completing the Quest: Robert
Walkthrough
Edit
Walk to [Robert] and talk to him. He should be in view when you first start the game.
Quest Progression Image
Edit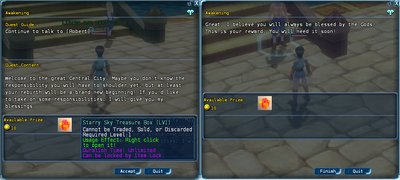 Ad blocker interference detected!
Wikia is a free-to-use site that makes money from advertising. We have a modified experience for viewers using ad blockers

Wikia is not accessible if you've made further modifications. Remove the custom ad blocker rule(s) and the page will load as expected.